Writing
White-Starr writes for the Style section of the Huffington post about once a fortnight. We write about real life fashion, specifically what is on our mind at the moment!
I never thought in my lifetime it would actually be cool to wear an American flag.
Posted on 7 November 2008 | 11:30 am
On Tuesday night I saw a young boy skateboarding down Broadway waving a huge American flag like it was the most revolutionary symbol on earth. As the votes started tallying in favor of change, the colors and symbols of the American flag, that only moments before stood for conservativism and eliteness felt new, cool and revolutionary.

I was born in the late 1970's, after people wore American flag t-shirts with their bell-bottoms. It's honestly always seemed like a giant oxymoron -- hippies wearing American flag fashion. I understood that the flag was genuinely a part of the fashion and culture of that era, but I never understood it.

I never thought in my lifetime it would actually be cool to wear an American flag. This morning I reflected on what young, liberal activists have worn in my time and realized that there has been a lot of dark colors, a lot of hoods and a lot of safety-pins and ripped edges. It made me wonder -- has there been some sort of subconscious mourning all this time and we did not know it until Tuesday night?

As I came over the bridge from Manhattan to Brooklyn the other night I saw people running out of their houses into the streets. People who normally may not acknowledge one another giving high fives, howling in unison; "Woohoo! Barack Obama! O-BA-MA!" The gentrifiers and the originators, together dancing in the street.

The past few weeks in New York I have talked to more people because of my handmade Obama pin (made by a school teacher in Brooklyn). Complete strangers of all ages, colors, nationalities, aesthetics asking me about my pin, where can they get one just like it? How is going to be if he wins? Are people going to be dancing in the streets? The answer was and is yes! The parents and their kids and their neighbors were dancing in the streets. A new day is here and we are dying to floss it! Here in New York City, where people dress in many different ways I have a feeling we may all want some unifying pieces or colors in the coming months. I want to wear more things that (like my Obama pin) that invites complete strangers want to converse with me. I want to channel this hope into a way of everyday dress!

I awoke looking this morning searching for color in my wardrobe. I want more red, more blue, more purple, and more hot Michelle Obama pink. On the street this afternoon I heard shout outs of "O - BA - MA". I turned around and I saw young kids in dark hoodies walking down my street after school singing "O-ba-ma! O-ba-ma! O-ba-ma!" on a rainy fall day that would have otherwise seemed dreary and boring. And they were smiling ear to ear. I wonder if maybe they too wish their hoodies were red, white or blue today.

Karyn Starr of White-Starr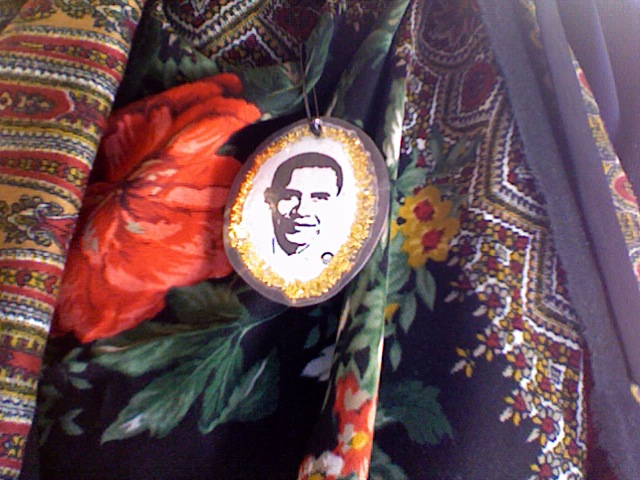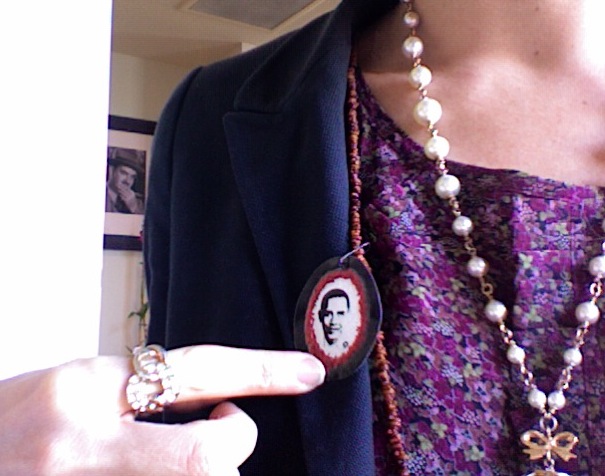 In the long run, the working wardrobe philosophy saves money through engendering smarter shopping practices.
Posted on 17 October 2008 | 11:33 am
As Nick Paumgarten argued in the New Yorker this week, "hoarding is panic's quiet twin."

During this economy's downturn a purge of any sort may strike as counter-intuitive. Yet as wardrobes go, we find that people keep buying when they cannot see what they have; cannot see what it is that is working best for them in their own closets. Our focus has always been functional fashion for the modern woman, to which the idea of a working wardrobe is our most integral concept and reiterated mantra.

Favorite clothing items are often those simple basics with an exaggerated detail (eg. tailoring play or kick of patent) or perfect fit. They are no-brainers: unfussy and versatile, how every piece in a wardrobe should feel. Of course, while dramatic or extravagant special occasion pieces are necessary and fun, it is too often we find them overrunning a wardrobe rather than supplementing a great base/foundation.

A great base consists of three different layers:

- Bottoms: pants and skirts

- Tops

- Outer layers: cardigans/sweaters/jackets

A way to test the functionality of one's wardrobe is that each of these layers should all go together relatively easily/fluidly and in many combinations. Outfits, or a single top that only matches a single bottom have little place in the working wardrobe.

Within a working wardrobe, the wheel need not be reinvented every time the closet is entered! Looking to French women we see fewer items and greater ingenuity of pairings. Everything goes together: making for endless outcomes. Also relevant is the European closet whose average size is much smaller than its American equivalent. We, Americans, therefore require double the diligence in curbing our hoarding practices and unchecked overflow.

In the long run, the working wardrobe philosophy saves money through engendering smarter shopping practices. With a strong foundation (based on individual lifestyle needs, body type and work realities) key classics can carry through from season to season and when loved beyond the point of wearability, may then be replaced. Shopping to replace; a clothing search with a more specific focus allows for more finely tuned and directed shopping. As the clothing search becomes less scattered, by extension, so will the overall wardrobe.

In going forward, get in your closet and spend a little time! Get playful, experiment with what you already have. Put it all together, try layering thin materials, pair clothes tonally. Think of balancing volume with cinching or showing off a wrist, elbow or collarbone. In pairing down and experimenting you may find those one or two key pieces you've been missing (simple belt, scarf, black blazer) that keeps a wardrobe fresh and can changes individual articles.

A vital aspect of the working wardrobe and the mind shift most important in transitioning towards one is moving away from the idea that each individual article of clothing must be "interesting" or "eccentric." The statement is the outfit as a whole, each article working together for overall effect and composition. Therefore, though a thin black cardigan with a subtle detail or shape may seem tame when viewed in solitary, it takes on life when paired with counterparts, when used as one character in a larger ensemble.

Andrea Longacre-White of White-Starr

All images thanks to Scott Schuman The Sartorialist.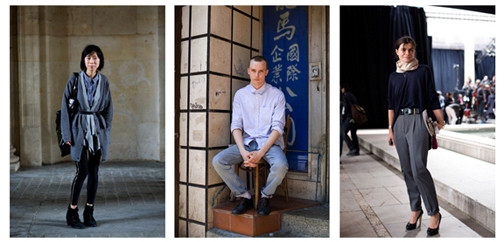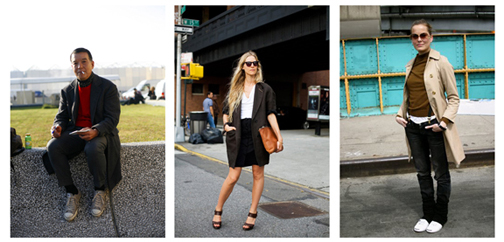 />



We want women older than our age to admire, so we can continue to dream and envision what we will someday become. We need style icons at every age!
Posted on 9 October 2008 | 10:25 pm
Where are our modern day style icons? Definitely not on the covers or inside the pages of American fashion magazines. We are struck by the influence of young Hollywood on current womens style. Fashion media from Vogue to Elle to the daily style blogs closely follow and document the supposed "style" of young actresses who are under the age of 28, tan and a size 2. We often hear our clients, most of whom are over the age of 30, admiring the style of Rachel Bilson, Natalie Portman, Sienna Miller and now the cast of Gossip Girl. Though these particular women are dressing in a more refined way than other young Hollywood celebrities, their clothes -- leggings, mini dresses and over embellished bra-less tops -- are just not applicable to real womens daily life. There is very little in the American media for women to look to for real inspiration. We do note and appreciate Bazaar's effort to show us how to follow trends through our 20's, 30's, 40's, 50's. and 60's, but it is not enough.

We have fond childhood and teenage memories of looking up to stylish women and painting the stories of our lives when we too would someday be successful and chic. Well, we're grown up now and we want to keep dreaming! It seems the only people who are supposedly "iconic" and fashionable are 25! Whether we are 30, 40 ,50 , or 60, we want women to look to for style inspiration. We also want women older than our age to admire, so we can continue to dream and envision what we will someday become. We need style icons at every age!

We have watched in awe at the style transformation of Katie Holmes (Tom Cruise creepiness aside). Her look offers possibilities for the viewer -- options on how to wear your hair (wow - its not just long and highlighted -- is that allowed?), how to dress for work, and how to carry your bag and baby at the same time. Recently she was photographed on her way to work in New York in simple slim black jeans, a modern v-neck t-shirt, a trench coat, simple black flats with rubbery soles, and a cool black bag -- without gratuitous buckles -- that easily fit over her shoulder. This is what is inspiring about her, that her style, her look, is real, and while we know we can't necessarily afford all of her clothes, the idea behind them -- to be effortlessly modern, cool and sophisticated -- is a true inspiration for us.

This obsession with the young Hollywood celebrity set does not end with the media. Even if you attempt to set out in search of great clothes you will run into the trends driven by these young celebrities almost everywhere you look. The larger trends-for-less stores, i.e. H&M, Forever 21 (need we note the name?), Anthropologie, etc., seemed like such a good idea at first. It was great for people who wanted to follow season to season trends or anyone who did not want to break their bank. Because of these retailers, women have closets full of baby-doll dresses, frilly doll-like shirts and over-embellished jeans that are so low we are not sure how they fit anyone over the age of ten! We want to buy clothes that the woman of our childhood dreams may have worn! None of these retailers are providing clothes for people our age, much less the people we dream of being next.

One retailer we see deliver every season is J. Crew. They are embracing big fashion trends in a way that is beautiful, chic and timeless. They have this season's pencil skirt, but it's done in a way that won't make it obsolete next season. The price point is attainable whether you are comfortable spending money on clothes or not. And if you are accustomed to shopping at department stores and local boutiques the price point is a deal.We need more of this!

On the more "affordable" floor of department stores we see some great pieces from other collections such as Theory, Rag and Bone, James Perse, Isli etc. But they are grouped so tightly with the over embellished trendy look of the young Hollywood, it takes time and a very discerning eye to find the gems that will make your wardrobe feel functional, sophisticated and cool.

Karyn Starr of White-Starr